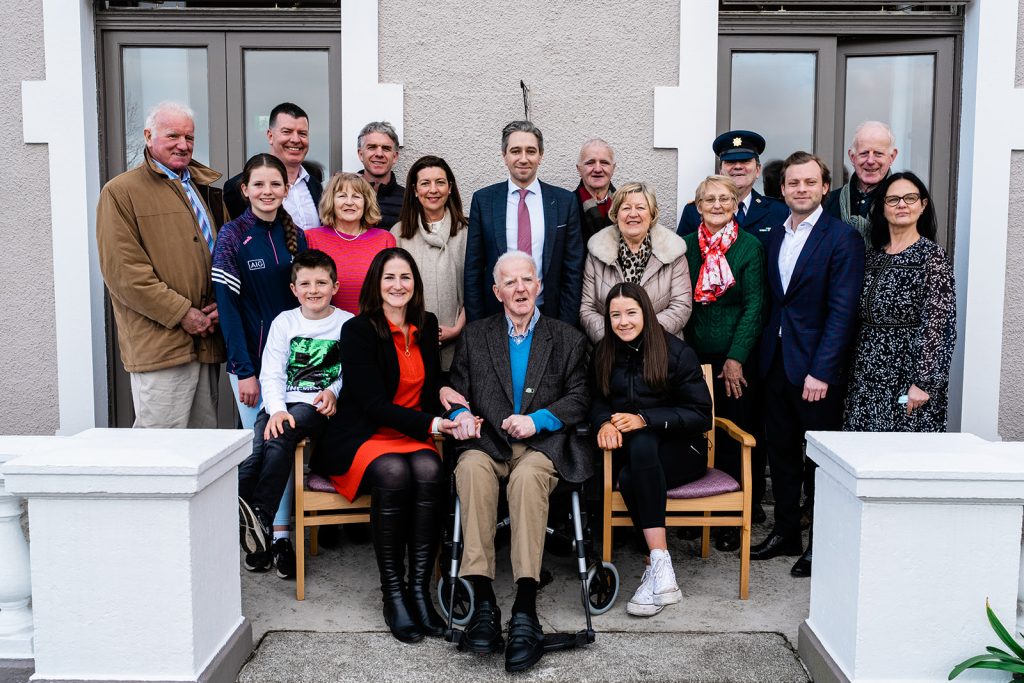 We had a memorable day in Greystones Nursing Home on Friday 17th February 2023, when local TD and Minister for Further and Higher Education, Research, Innovation and Science joined us to celebrate a very special day for Sergeant Richard Landy.
The Certificate of Appreciation is presented by An Garda Siochana to recognise the loyalty, service and commitment of serving and retired Gardai in the Dublin Metropolitan area to keeping the people of Ireland safe. It is part of a programme commemorating the 100 year anniversary of the founding of An Garda Siochana in 1922.
Minister Harris, a Greystones local,  presented Richard with his Certificate, while Superintendent Pat Connell (representing the Garda Commissioner) presented the Garda Medal of Honour on the day. They were joined by members of the Landy family (including his daughter Fiona Keating; son-in-law Ed Keating; grandchildren James, Eva and Isobel; and brothers Michael, Nicholas and Tom), Eamonn Prone (CEO of Evergreen Care Group) and Carmen Ene (PIC, Greystones Nursing Home).
The staff hosted the reception and speeches in a room decorated with balloons, cake, a framed Certificate of Service and photographs from Richard's time in service – and the all important certificate and medal – in a moving tribute to Sergeant Landy.
Richard's 31 year Garda career included spells in Irishtown Garda Station, the Depot in the Phoenix Park and Donnybrook Station. He was promoted to the rank of Sergeant in 1991.
Richard has been with us in Greystones Nursing Home for since November 2021 and the staff were delighted to be involved in setting up and participating in this beautiful occasion.