There are thirteen private nursing homes currently operating in County Wexford, one of the largest counties in the province of Leinster.
Evergreen Care has one nursing home in County Wexford - Middletown House and Retirement Village.
Choosing a nursing home in Wexford
When choosing a Nursing Home, a couple of things to look at are how easy it is to get to and are there things to do in the locality.
Wexford lies to the South-East of the country and borders Waterford, Kilkenny, Carlow and Wicklow, along with the Irish Sea.
Known as "the sunny south-east" Wexford gets more hours of sunshine than any other county in Ireland, making it the perfect choice of location if you enjoy soaking up the rays and getting a good supply of vitamin D. It is also well-known for being the home to the famous Wexford strawberries, potatoes and many stunning beaches.
The county is easily accessed from the capital through its Dublin to Rosslare train and bus services and as well as having the Rosslare Europort where you can hop on a ferry to Wales and France.
How easy is it to get there?
Middletown House is located just off the R742 regional road, which continues on to the town of Gorey.  Gorey can also be reached by a daily bus service from Courtown. There you will find the local train station which runs services to Dublin, Wexford and Rosslare.
Middletown Nursing Home is within a
2 minute drive to Courtown
10 minute drive from Gorey
35 minute drive from Wicklow town
40 minute drive from Wexford town
60 minute drive from Dublin
55 minute train journey from Dublin City Centre
Things to do in the locality
Situated only a mile outside the beautiful harbour and seaside village of Courtown, Middletown House Nursing Home and Retirement Village is a homely and inviting complex comprising of private rooms and independent homes.
Residents at Middletown House are spoilt for choice when it comes to excursions with Courtown's beautiful beach only a five-minute drive away as well as the many nearby hill walks and woodland trails in the local forest park.
There is a major emphasis placed on activities and a wide range to choose from so the residents are stimulated socially, physically, spiritually and intellectually. Some of the activities available to its residents include newspaper chats, aromatherapy, music and song, general knowledge quiz, movie afternoon and gardening, to name only a few.
Local Attractions

Courtown's many shops, pubs, supermarket, hair salons, church and cafes are less than a ten-minute walk away from Middletown House and only a two-minute drive.
Courtown has a huge selection of traditional seaside attractions such as crazy golf, amusement rides, ten-pin bowling and a golf course.
If the fresh sea air makes you hungry for a salty bag of chips, then a trip to
"The Dinky Take-Away" is definitely in order as it was once voted "the best chips in Ireland".
If you are lover of animals, then you should take a trip to the Seal Rescue Ireland sanctuary, where 60-80 sick and injured seals are rehabilitated each year.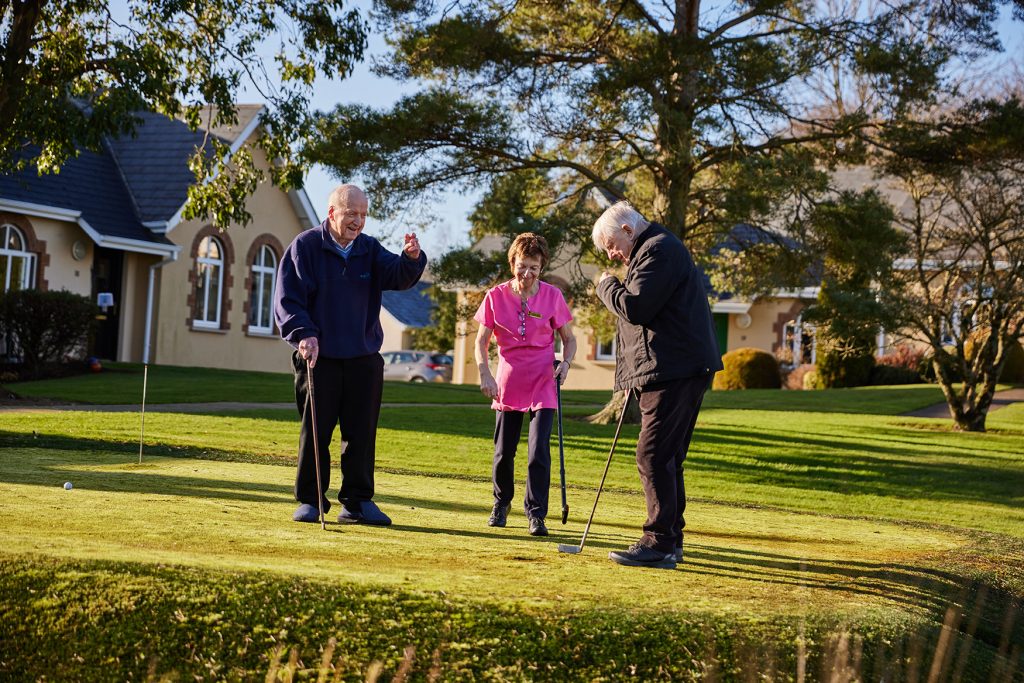 Check out Middletown House Nursing Home & Retirement Village, County Wexford
Residents at Middletown Nursing Home are treated with care and respect by highly trained staff who deliver personalised care in a warm and friendly atmosphere.
Middletown House Nursing Home & Retirement Village caters for
Personalised Care
Respite Care
Convalescent Care
Specialist Care – Alzheimers and Dementia
Residential Care
Palliative Care
Learn more about Middletown House Nursing home & Retirement Village
Click here to learn more about Middletown House Nursing Home & Retirement Village, County Wexford.
Feel free to call Person-in-Charge Deepa George on (053) 9425451 or email hello@middletownhouse.ie to arrange a tour.
We're always looking for qualified, experienced and caring people to support our community.