There are currently 15 private nursing homes operating in County Meath, a county filled with ancient historical significance.
Known as "The Royal County', Meath was the location of inauguration for many of Ireland's ancient high kings at The Hill of Tara.
Evergreen Care has one nursing home in County Meath - Dunboyne Nursing Home.
Perfectly positioned on the border between County Meath and County Dublin, Dunboyne Nursing Home provides a homely and tranquil residence in the midst of the peaceful Meath countryside.
Choosing a nursing home in Meath
County Meath lies to the east of the country and is part of the province of Leinster. Meath borders the seven counties of Westmeath, Louth, Dublin, Kildare, Offaly, Cavan and Monaghan, making it perfectly placed for visitors.
County Meath is renowned for the majestic green plains of the stunning Boyne Valley and the lush green banks of the Boyne River. It also has a charming 20-kilometre- long coastline at Bettystown stretching alongside the Irish sea. 
When choosing a nursing home, you should consider things like:
How easy is it to get there?
Dunboyne Nursing Home is ideally located, only 
a ten-minute drive to the heart of the picturesque town of Dunboyne, which lies parallel to the M3 motorway

a 15 minute drive from the M50 at Blanchardstown
the number 70 bus departs from Merchants Quay in the heart of Dublin every 10 minutes during peak hours
Things to do in the locality
Dunboyne has many shops, bars, boutiques and cafes to explore and is served by bus services around the county of Meath and to the capital city of Dublin.
For those who enjoy some pampering, the Dunboyne Castle Hotel and Spa, located in the town, offers visitors a huge choice of spa treatments along with lunch, dinner or afternoon tea in their bar, terrace lounge and restaurant.
You can also enjoy some tasty treats at the Dunboyne Avoca store and food market.
The Blanchardstown Shopping Centre is one of the biggest retail centres in the country and just 15 minutes drive away.
If you are a golf lover, then the R & R 18 Hole Golf Course is only a 7-minute drive from Dunboyne Nursing Home and Fairyhouse Race Course is a mere 12 minutes in the car, if you fancy a flutter.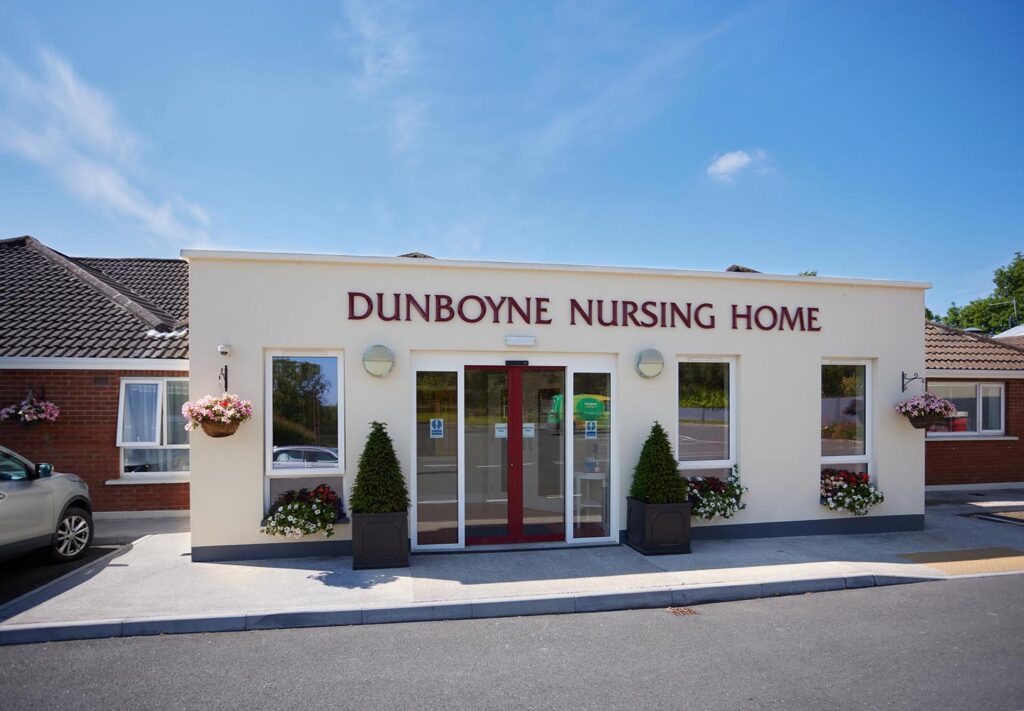 Check out Dunboyne Nursing Home, County Carlow
Dunboyne Nursing Home caters for
Personalised Care
Respite Care
Convalescent Care
Specialist Care – Alzheimers and Dementia
Residential Care
Palliative Care
Learn more about Dunboyne Nursing home
Click here to learn more about Dunboyne Nursing Home, County Meath.
Feel free to call Person-in-Charge Elizabeth Farrelly  on (01) 8255232 or email hello@dunboynenursinghome.ie to arrange a tour.
We're always looking for qualified, experienced and caring people to support our community.