With 18 private nursing homes currently operating within the county of Wicklow, it is clear that, for many, "the Garden of Ireland" is a popular choice of location.
Evergreen Care has one nursing home in County Wicklow - Greystones Nursing Home.
Located in the North Wicklow town of Greystones, which won the 'World's Most Liveable Community Award 2021', Greystones Nursing Home reflects the modern facilities and charm of the surrounding community.
Choosing a nursing home in Wicklow
Benefiting from both stunning national parklands and superb beaches, Wicklow ranks high among the most beautiful of Ireland's counties and offers its residents and visitors a multitude of attractions to enjoy.
If you can't decide which you enjoy more, mountainous landscapes or breath-taking coastal views, then Wicklow is for you. Conveniently situated less than 50 kilometres from Dublin, it can be easily accessed from the capital city. Famed for its many tourist attractions, Wicklow is home to well-known attractions such as Glendalough Monastery, Powerscourt Estate and Waterfall, the Wicklow Mountains and outstanding beaches such as Brittas Bay.
When choosing a Nursing Home, a couple of things to look at are how easy it is to get to and are there things to do in the locality.
How easy is it to get there?
Greystones Nursing Home is within a
30 minute drive from South Dublin
10 minute drive from Bray
25 minute drive from Wicklow town
55 minute train journey from Dublin City Centre
Greystones is served by the 84 and 84X bus service from Dublin and the Dart and Mainline rail service. The railway station is a 3 minute drive/11 minute walk.
Things to do in the locality
Named after the one-kilometre-long stretch of grey stones that joins its two beaches, Greystones is a lively town with a working harbour, marina and busy train station into which the DART from Dublin operates a service. It is also accessed via the N11 which leads onto the M50.
Greystones is linked to Bray town via a beautiful 6km coastal walking path which runs along-side the railway line around Bray Head.
The nursing home is surrounded by a really vibrant community and many local amenities such as churches, shops, pubs, restaurants and supermarkets. There are many cosy cafes nearby where you can relax and enjoy a cup of tea and a slice of cake or order them to go and enjoy them on one of the many beach front benches with views facing out to the Irish Sea. 
There is no shortage of things to do in the town with two eighteen-hole golf courses, a driving range and a huge array of local clubs such as sailing, bridge, tennis, rugby and lawn bowling. The Whale Theatre in the town also hosts many performances to keep residents entertained.
It is also home to the famous Happy Pear Café which can be found further up Church Road.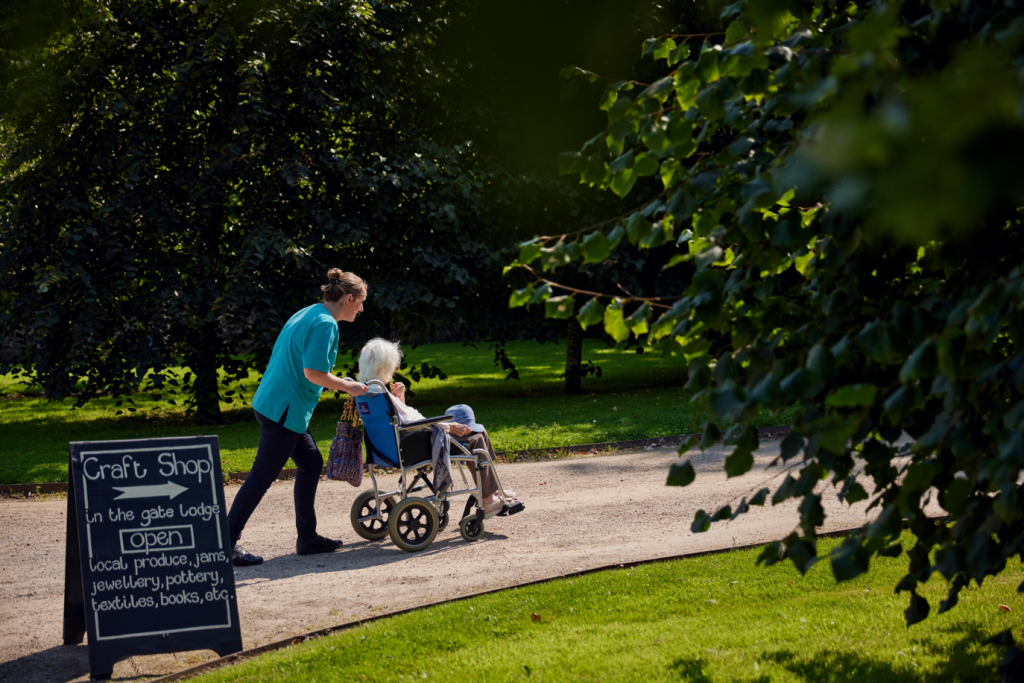 Check out Greystones Nursing Home, County Wicklow
Greystones Nursing Home caters for
Personalised Care
Respite Care
Convalescent Care
Specialist Care – Alzheimers and Dementia
Residential Care
Palliative Care
Learn more about Greystones Nursing home
Click here to learn more about Greystones Nursing Home, County Wicklow.
Feel free to call Person-in-Charge Patricia McCoy  on (01) 2873226 or email hello@greystonesnursinghome.ie to arrange a tour.
We're always looking for qualified, experienced and caring people to support our community.