County Offaly currently has eight private nursing homes operating within the county.
Famed for its flat unspoiled peatlands, such as The Bog of Allen, and as a passageway for the River Shannon, Offaly is filled with natural beauty.
Evergreen Care has one nursing home in County Offaly - Oakdale Nursing Home.
Set on the border between Offaly and Laois in the town of Portarlington, Oakdale Nursing Home provides its residents with the best of care in a homely and warm community-centred atmosphere.
This purpose-built home has all the modern facilities and two internal gardens where you can relax in the fresh open air. Tranquillity can also be found inside, with their meditation and therapy rooms.
Choosing a nursing home in Offaly
Offaly can be found in the middle of the country bordering the seven counties of Galway, Roscommon, Tipperary, Laois, Westmeath, Kildare and Meath.
With rail stations at Tullamore and Clara, both of which lie on either the Dublin or Galway lines, Offaly is easily accessible by train.
Offaly also has both the M6 and M7 running through it for easy access from the motorway.
When choosing a nursing home, you should consider things like:
How easy is it to get there?
Oakdale Nursing Home is within a
20 minute drive from Portlaoise
55 minute drive from the M50, Dublin
2 hour drive from Cork
Portarlington rail station runs a service to Cork, Limerick, Dublin, Killarney and Tralee.
The Dublin Coach Company also runs a bus service from Portarlington to Kildare town via Monasterevin every hour during the day.
Things to do in the locality
The shops, supermarkets, churches, cafes and many other amenities of Portarlington are only a short walk from Oakdale Nursing Home as well as the peaceful winding course of the The River Barrow Walk.
As Oakdale is located on the border of both Laois and Offaly, you can easily uncover the delights of both counties.
In Offaly, you can explore Charleville Forest, Clonmacnoise Monastery, take in the spectacular views of the Slieve Bloom Mountains and its many lakes or watch the passing boats which travel along the Grand Canal on the pathway of the River Shannon.
In Laois, you can soak up the serenity of the Glenbarrow Eco Walk or Heywood Gardens, or marvel at the Rock of Dunamase or the stunning Emo Court House. Donaghmore Famine Workhouse Museum will allow you to travel back in time to a very important part of Ireland's history and is certainly worth a visit.
Portarlington itself also has a lot to offer, with the People's Museum featuring many Bronze Age memorabilia, The Spire on Corrig Hill and its annual French Festival, with live music, dance, sport,
history, food and a parade celebrating Portarlington's French influence and "Huguenot connections".
For some serious retail therapy, Kildare Village with its hugely populate outlet stores, is just over 20 minutes drive away.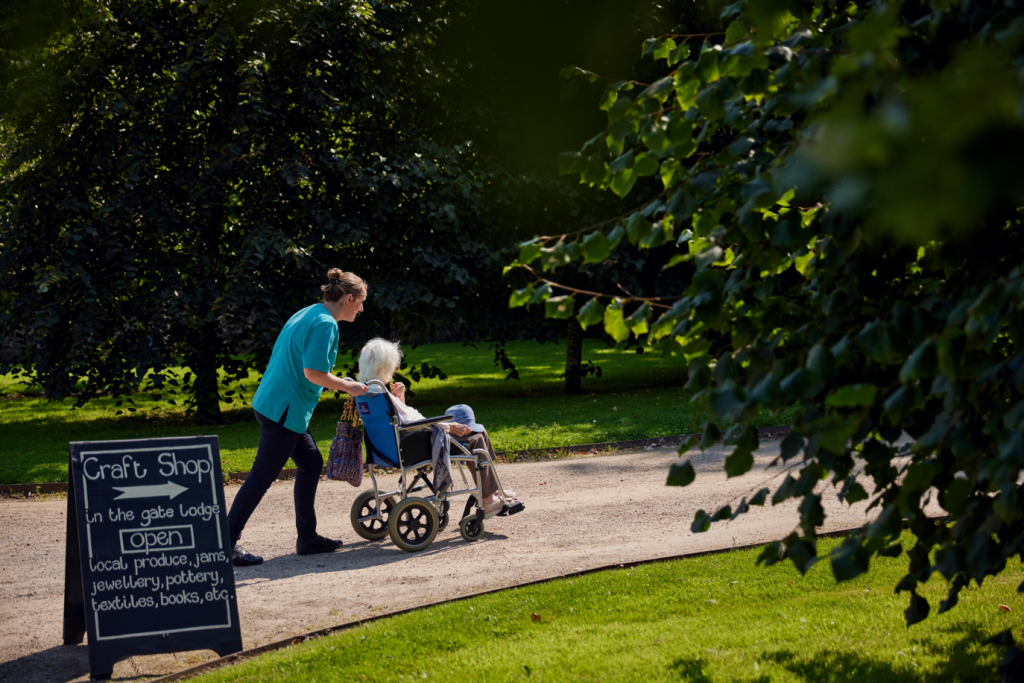 Check out Oakdale Nursing Home, County Offaly
Oakdale Nursing Home caters for
Personalised Care
Respite Care
Convalescent Care
Specialist Care – Alzheimers and Dementia
Residential Care
Palliative Care
Learn more about Oakdale Nursing home
Click here to learn more about Oakdale Nursing Home, County Offaly.
Feel free to call Person-in-Charge Kiranjit Laur  on 057 8645282 or email hello@oakdalenursinghome.ie to arrange a tour.
We're always looking for qualified, experienced and caring people to support our community.